Fancy a snack, coffee with a pastry, or an ice cream? Here you will find tips on 18 different places where you can stop for a real Swedish "fika". Follow the route from 1 to 18 and you will get a tour around Fryken. Start in the south, with the first stop in Västra Ämtervik and then E45 north. In Torsby, turn south on the east side of Fryken. 
1. Margits Café at Sillegården
During the summer, Margits Café is located in Sillegården's yellow house. They serve traditional coffee bread, ice cream and sandwiches. Cakes and cookies are baked on site and the nostalgic flavours may remind you of cakes from long ago. The garden offers several peaceful places to sit while you enjoy your treats. Enjoy the calm and the view of Fryken.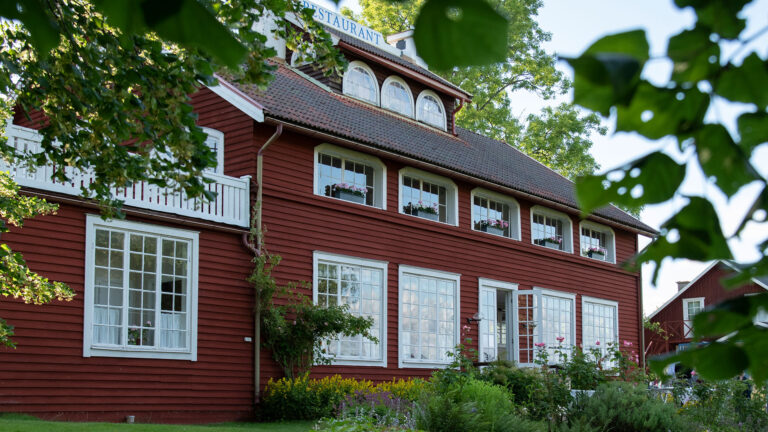 2. Café Kings Cakery in Rottneros
Kings Cakery bakes cakes with inspiration from the USA. How about a Red Velvet Cake with a touch of lime? At Kings Cakery, the Velvet Cake is also made with a taste of chocolate and mocha. Brownies and Mazarin cake are also available daily, as well as pies that are guaranteed to satisfy your craving for sweets and maybe even your appetite.
3. Coffee at Rottneros Park's café
At the park entrance is a café offering juice and coffee with pastries. It might be hard to choose – vanilla or chocolate, small cake or roll, pie with cream or custard? One thing is for sure, there are lots of good choices. Maybe you're feeling more like a quality sandwich with brie cheese and salami with your coffee– they have that, too.
4. Sundsberg's manor, café and art
Homemade cinnamon rolls, Kärleksmums with coconut and seven kinds of cakes. Could there be a more traditional Swedish snack? Here you can sit in the farm shop, or on the outdoor terrace. Before or after your snack, we recommend a small tour around the house and café to check out the art and gadgets in the store.
5. Citykonditoriet in central Sunne
If you are looking for a classic café with baked goods like Budapest or Opera pastries, Danish pastries, cinnamon rolls or biscuits, then head to Citykonditoriet on Storgatan 32 in Sunne. You will find year-round indoor seating, and in the summer, you can sit in the café's outdoor terrace. With such a large variety, you are guaranteed to find something you will like.
6. Saffran och Vitlök café
This restaurant serves lunch, but you can also have coffee here. You will find the café in Bibliotekshuset. During the summer there is outdoor seating in the courtyard where you can enjoy coffee with cake, a quality piece of chocolate, or even ice cream if you want, for your coffee break. They have Italian ice cream from Il Primo.
7. Café å Le
This small café is located on Storgatan in Sunne. In addition to coffee, simple lunches are served here. If you are craving a snack, you will find homemade pies and other baked goods. They have room for small parties here.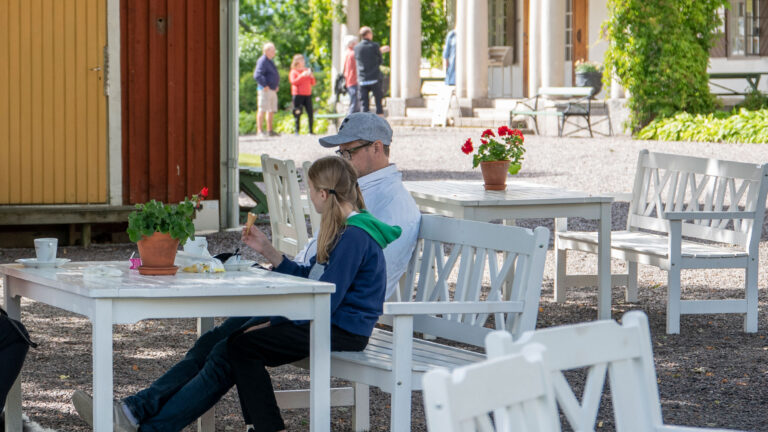 8. Sunne Hembygdsgård's ice cream café
At Hembygdsgården in Sunne, there is a café with an ice cream menu. You can order freshly baked waffles and ice cream here. In the cute little red cottage, you sit at tables of different styles. Each table has its own coffee service, and it feels very homey here.
9. Kafé Tant Blå at Ulvsby Herrgård
On Ulvsby Herrgård's upper floor you will find Kafé Tant Blå. Tant Blå is global with a sense for the local. They serve homemade cakes and a good cup of Löfberg coffee. The café overlooks Lake Fryken and is open during the summer. Tant Blå would love to welcome you as a guest.
10. Coffee the American way at Diner 45
Ice cream and big American muffins. This place might be better known for its burgers, but if you are craving an American dessert or milk shake, you can call it your coffee break. If you have been missing America, this may be more like their coffee. Welcome, and take a little slice of America with you.
11. Tossebergsklätten
A winding serpentine road takes you up the mountain for coffee with a view. Coffee and cakes or other pastries are served here at an altitude of over 340 metres above sea level. Of course you won't see the sea down there, but Fryken. The view is enough to take your breath away. Best to enjoy your coffee with the scenery.
12. Nya Wienerkonditoriet in Torsby
At Fryken's northern end lies Torsby. Here you will find the popular Nya Wienerkonditoriet. They have a selection of local specialties that are especially popular among locals. TV-kaka with vanilla cream is one and Chokladmolusk is another. Now we turn south on the snack tour. Drive towards Lysvik on Olebyvägen.
13. Bada Herrgård on the way south
The first stop will be in Bada. Here you will find a farm shop and charming café at Bada Herrgård. Homemade bread is the foundation of their tasty sandwiches, and their cakes are even better. Have a seat in the manor's lounges and enjoy the fine furnishings. You may also want to browse their farm shop.
14. Grab coffee at Café vid Frykens Pärla
Here you can order cappuccino or espresso if you prefer, instead of everyday Värmland coffee. Maybe you want a luxurious chocolate praline for your coffee. There are lots of different choices. The counter also has various coffee breads, cakes and pies to choose from. Along with your purchase, you'll get the view and location near Fryken for free.
15. Mormors Glasscafé in Lysvik
This is Sunne's most popular place to eat ice cream. And it's no wonder. A menu full of imaginative ice creams. With flavours like liquorice, vanilla, chocolate and pistachio. They have whip cream and sprinkles, umbrellas and nice presentations. There is coffee in antique coffee cups, and its cosy in the garden overlooking Fryken. A very nice place.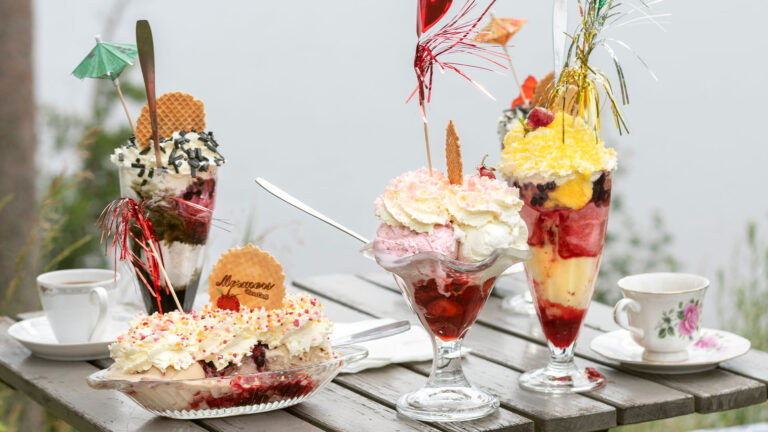 16. Mårbacka café
If Selma Lagerlöf had to choose for herself, she would pick pastries with coconut, apples, currants and artisan flour. Of course, that is exactly what you will find at Mårbacka's lovely café. Artisan cake is used to make Mårbackakakan, which is served with cream and lingonberry jam (or krössylt as we say here) and Skrädmjölsdrömmar of course. The cakes and bread served here are baked on site and are perfectly in keeping with what Selma would have served. Take a seat on the fine white furniture under the shade of the trees and enjoy. It's what Selma would have done.
17. Alma Löv Museum with café
In an old barn known as Paleis Oranjestraat, is the location of Alma Löv's café. One of Värmland's most creative and exciting atmospheres for a café. Sit amongst the art and enjoy your coffee. Or take your coffee and snack out into the meadow outside. The grass is green, and there are horses grazing. Have a seat and feel relaxed.
18. Café Freja
This café is located in Sweden's first Railway Station. It is the last stop in our coffee tour around Fryken. Freja was originally the name of a steamboat that operated on Fryken but sadly wrecked. At the café, you can enjoy quality homemade coffee bread and cakes. If you are hungrier, there are also sandwiches with different fillings.