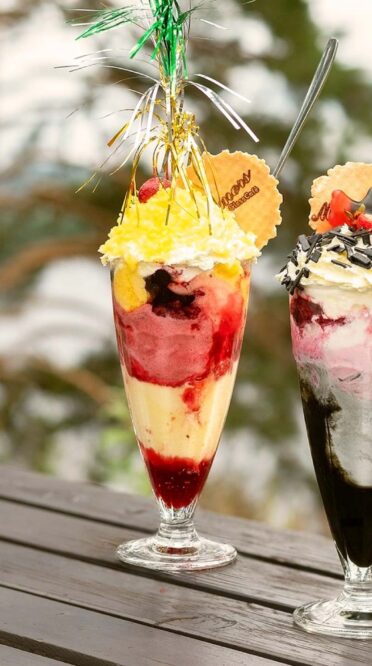 Places to Eat
Where should you go if you're looking for food in Sunne? A visit to a café or restaurant in Sunne can save the day and contribute to a better experience.
Food and enjoyment
During a meal, our sense of taste and smell are both stimulated. But don't forget that the atmosphere and the company also affect how we enjoy the food. Would you like to dine with a view? Frykenstrand, Ulvsby Herrgård and Selma Spa's restaurants all have views over lake Fryken.
If you would like to be closer to the lake, a burger on the pier at Kolsnäs at Sunne Camping or a cod fillet at Frykens Pärlas outdoor restaurant in Lysvik might hit the spot. If you want something especially stimulating to your taste buds, there are Kulinarika Food & Winery and Ulvsby Herrgård, with their delicious flavours and menus.
Restaurants in Sunne
What about the food? When it's nearly twelve o'clock, it's time for lunch. In Sunne, you will find restaurants for various tastes. Italian flavours, including pizzerias, Thai food, Chinese food and Greek grill menus are available.
Saffran och Vitlök serves homestyle cooking, with good vegetarian options. In summer you can buy lunch at places of interest like Mårbacka, Rottneros Park and Sillegården.
Lunch in Sunne along E45
Have you heard the expression "children with full tummies are happy children"? It's true, and wouldn't you know, it applies to adults, too. Now and then you might just be passing through Sunne and would like to replenish your energy and mood. Along E45, you will find several good options in Sunne.
There are Wärdshuset Nils Holgersson and Sagolika Löven, both of which serve homestyle cooking. South of Sunne in Berga there is a pizzeria. North of Sunne you will find tasty homemade burgers on the menu at Diner 45. Here you'll be seated in an atmosphere inspired by a '50s American restaurant.
Cafés and ice cream in Sunne
Sometimes you just crave coffee and a pastry, or an ice cream. Then it's best to find a good café. Imagine enjoying Selma's Vinbärsgömmor at Mårbacka or a classic Budapest pastry at Citykonditoriet. Mmmmm, mouth-watering. If you want to take tea in a place with a view, you would be wise to head up to Tossebergsklätte where coffee and pastries are served in the summer with a view of Fryksdalen. If you like ice cream, then Mormors Glasscafé offers ice creams with names like sweet tooth, sweet pig and holiday memories. If you're curious, head to Lysvik.