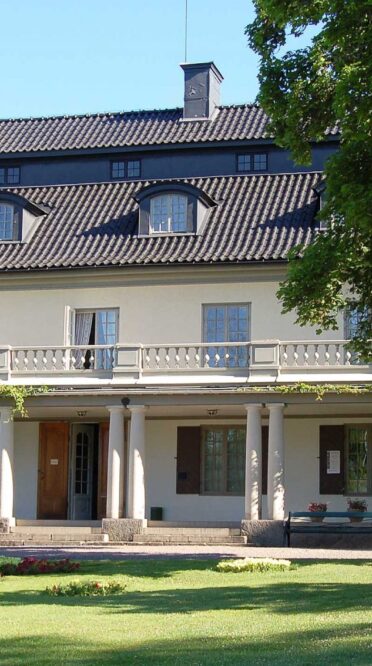 Culture enriches our lives and through its expression, we can convey thoughts, feelings and observations in a way that is exciting to other people. Culture is to the adult what playing is to the child. By thinking about the way others express things, you can foster your own creativity and playfulness. The culture in Sunne is always alive, but for a period in August, it gets extra time and space during the highly regarded Culture Week. Come and be inspired in Spectacular Sunne in the middle of the Värmland cultural landscape!
Värmland culture in Sunne
Culture is dance, visual arts, film, theater, literature and music. We visit galleries, art exhibits, concerts, craft shops, studios and cultural environments. Sunne is overflowing with culture. Ever since Selma Lagerlöf's time, and before that, the site has inspired creative people.
Guide to Sunne's art and culture
Everyone wants a complete guide. It is difficult to make a fully complete guide in a place like Sunne. In Sunne, there is a rich cultural life with exhibits, theater, dance and music. Artists are found in many cottages. During Culture Week or at a local gallery, they open up to get into the creative mindset again.
Sunne Culture Week
A wide range of cultural activities is offered during Culture Week in Sunne. In a very extensive programme, you can experience art, crafts, literature, music, workshops, lectures and creative people in beautiful environments. Cultural Week in Sunne is organised by the Selma Lagerlöf Literature Prize Foundation. The award ceremony is the highlight of the week.
The storytelling tradition: Selma Lagerlöf and Göran Tunström
Two of Sweden's most famous authors come from Sunne. They describe places around Sunne in their stories. Mårbacka, Selma Lagerlöf's home, is of course central and should be on the checklist when visiting Sunne.
Selma Lagerlöf's book "Gösta Berling's Saga" describes farms from a bygone era and people who were around at the time became inspirations for characters in the story. Göran Tunström describes his childhood and environments in Sunne with a spirit of the times from the 1950/60s. In our app Sagolika Sunne, there are stories about the two authors you don't want to miss.
The story lives on and we can see it today in Berättarladan where Västanå Teater puts on its famous performances. At Sillegården in Västra Ämtervik, Ida Sahlström's work can still be seen.
The power of culture in Sunne and Selma Lagerlöf's works
Past and present are woven together. It's probably the case with our history that culture that comes from human life is preserved to a certain extent while other things are transformed. There is no doubt that Selma Lagerlöf had great significance for the culture in Sunne.
She used places and people who lived around her in this area when she wrote her stories. One of the main characters in "Gösta Berlings Saga" is the Major's wife at Ekeby. In reality, she lived like Christina Gustava Hallenia at the farm Ojervik and her history is close to the one that Selma Lagerlöf talks about in the book.
Rottneros Park was built to resemble Ekeby
Selma Lagerlöf's literature has fascinated many readers. Svante Påhlsson lived with his family in the manor house next to the mill. When the manor house burned to the ground on Saint Lucy's Day 1929, Svante decided to rebuild it and make it even more magnificent.
The building has the splendor described in Selma Lagerlöf's book Gösta Berlings Saga. When you visit the park, you'll see that his vision came to be about far more than a magnificent main building.
Today it is a flower and sculpture park that is visited annually by many with an interest in flowers and plants, art and sculptures, literature and especially by families with children, who will find a green oasis with a playground for the playful. Svante Påhlson's mission to create the fairy tale Ekeby for real succeeded.
Tossebergsklätten: a place for inspiration in Sunne
Selma Lagerlöf was inspired by environments in and around Sunne. One such place is Tossebergsklätten. In her literature, the mountain is called Gurlitta Klätt. In her time, there was no road up, those who went up rode horses or walked up the precipice.
Another famous person, the author Göran Tunström, who grew up in Sunne during the middle of the 1900s, was also fascinated by the view.
"The highest thing is to see God. The next highest thing is to stand on Tossebergsklätten and look out at this world."

Göran Tunström
Take a trip up Tossebergsklätten and contemplate the view. The place may be inspiring for you too.
Mårbacka memorial farm, Selma Lagerlöf's childhood home
When Selma Lagerlöf died and her will was opened, it was clear that she wanted her childhood home to be preserved and shown to the public. A foundation was to be formed to manage the farm.
So it was done. It makes it possible for you and everyone else to see and be inspired by her home. The house is furnished as it was in her time, which is now a time capsule from the time when she lived here. Many have admired her shiny copper bench in the kitchen.
Selma Lagerlöf herself was very proud of the then hypermodern stove. Today, plants are grown in the garden that Selma Lagerlöf wanted there and Selma's currant cakes are served in the café. Who can resist such great cakes?
The Klenell glass artists
Creative artists have found their place in Sunne. The Klenell family lives and works here in Edsbjörke just north of Sunne. In her glass display, Inga-Lena Klenell creates fantastic glass art that has been shown in group and solo exhibits both in Sweden and internationally.
At Sliperiet in Borgvik, a glass exhibit signed by Inga-Lena Klenell was shown one summer. Some examples of places outside Sweden's borders are the Museum of Glass in in Tacoma, Washington in the U.S., House of Sweden in Washington D.C. and Figge Art Museum Davenport. Inga-Lena also creates art that is found in public environments. If you visit the Sunne library, you will find some of her works there.