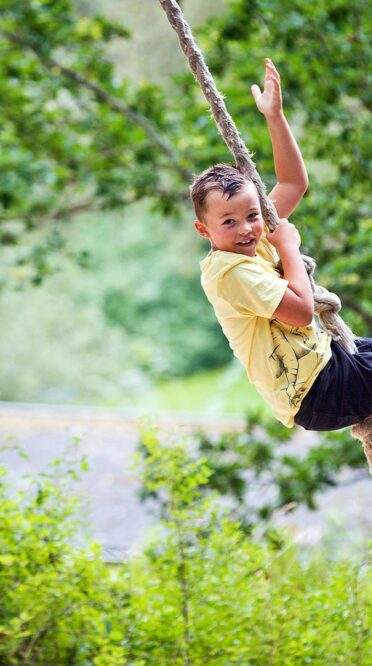 Travelling together with the family is fun. It can be even better when the kids think the trip is fun. Here is a collection of great tips for the family to make your trip a positive adventure, like a fairy tale with a happy ending. Those are the stories we like in Fabulous Sunne.
10 Child-Friendly Places in Sunne
We have compiled a list of our top spots to enjoy and have fun with your kids!
Water games at Sunne Sommarland
Who doesn't like to play in the water at a water park? Sunne Sommarland has everything you could want: swimming pools, sauna, hot tubs and lots of rides. Here you can float around in a big innertube on the Lazy River, take a quick trip down an Ormen, which is a waterslide, or try to get up Bubblan with the fountain. Sommarland is located next to Fryken for those who like to swim in a lake. Lovely swimming piers and an adventurous wipe-out course tempt the playful.
Rottneros Park playground
This large park, with blooming flower beds and over 100 sculptures, also has a playground for those with bounce in their step. The playground has trampolines, climbing frames, a pirate raft, swings and vines. Simply a paradise for children and families who want to play together
Visit Mårbacka and Alma Löv with the family
Sunne has lots of places to visit that are suitable for families. At Mårbacka, children and adults can both have fun. A treasure hunt or a dramatic show, which will it be? The barn has crafting materials and a puppet theater for the little ones, and at Mårbacka's café you will find something tasty to suit everyone. Alma Löv Museum is an imaginative place that can inspire both adults and children to be more creative.
Where can you hike with children?
Hiking with the family and experiencing nature is fun. The right trail depends on your hiking habits and how old you are. In Sunne, there are hiking trails of different lengths and different degrees of difficulty. The area around Gräsmark has various trails to choose from. Read more about our hiking trails here.
Cycling and other fun things for the family
The middle of central Sunne has barbecue areas and a playground at Mejeriängen. A skate ramp and pump track make skaters and cyclists happy. There is also a playground. Try your luck fishing, bring your rod and go angling in Fryken. Here, the family can easily spend a few hours of fun play and more. If you get hungry for lunch or coffee, there are restaurants and cafés close by.