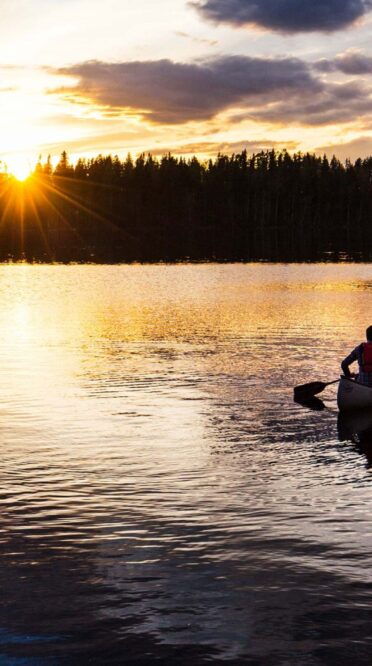 Nature and Adventures
Outside is the new in. In Sunne, there are many great hiking trails, forest paths and gravel roads for biking and many lovely small lakes to swim in or put the paddle in. But you might also think of ice skating, skiing or snow shoeing when you think about being out in nature. Explore our options here!
Let the adventure begin!
Adventure is at its best when it gets started and when its right for the people involved. Enjoying nature can be an adventure in itself. Nature reserves can offer unexpected species, trees can suddenly become a climbing tree, and a swim in a lake can be a shock to the body. Sunne has several nature reserves such as Getttjärnsklätten with a magnificent view. Almost like the one from Tossebergsklätten. Or Tiskaretjärn in Gräsmark, which is also not that far from Glaskogen, Värmland's largest nature reserve. Fredros Gård rents out canoes and is also located by Sandvika in Gräsmark. What will be your next adventure?
Hiking trails in Sunne, Värmland
In Sunne, there are many spectacularly beautiful hiking trails. If you don't want to hike alone, we offer guided hikes, so you get company and maybe learn something new from our talented guides. If you're interested in hiking on your own for multiple days, you can choose to hike Ängenleden, Gruvrundan and Tiskaretjärnsleden, three trails in one area. Don't forget the tent for staying overnight. If you don't want to sleep out in nature, you can choose to go in stages and choose accommodations in a hostel, hotel or cottage and take certain routes with your own car.
Canoeing for lakside and forest experiences
With a canoe, you can get around almost silently. Maybe you'll see the woodcock on its evening rounds. You and your friend camp by the lake and enjoy the last rays of sun before it disappears behind the edge of the forest. Hear the creaking of the forest and maybe get a glimpse of the elk as it's leaving the place where it was contemplating by the lake. Experience wilderness in Värmland from a lake or Rottnaälven (Rottna River) in Gräsmark.
Winter adventures in Sunne
In the winter, you can get rosy cheeks from cross-country skiing or sledding. Right next to Selma Spa, you'll find great ski trails in the Sundsberg area. Toboggan slopes are by Vintertorpet in the same area, or visit Rokkmakkstugan in Gräsmark, where there are also toboggan slopes. A great way to enjoy the winter if you have a playful mind and love snow!