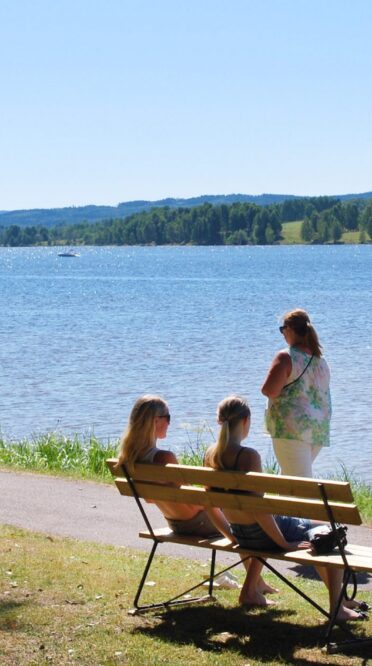 Lakes and swimming spots in and around Sunne
The landscape around Sunne is rolling and varied with forests, open fields and lakes. Fryksdalen is a valley with Lake Fryken in the leading role. Thanks to the lake being three kilometres wide, you look over to the other side and the valley feels open. This landscape has inspired great storytellers and artists in their creations. 
Swimming spots and jetties in Västra Ämtervik
There are many swimming spots around Lake Fryken. In Västra Ämtervik by Sillegården there is a 20-metre-wide sandy beach, a changing cabin and an outhouse. Next door is a jetty that steamboats that trafficked Fryken previously docked at.
On the west side of E45 is the idyllic Lake Aplungen. Equally idyllic is the swimming spot with the forest around it. There is also a swimming area with a sandy bottom. The jetty is in the water and on land there is a barbecue area. Perfect for an evening dip on a warm summer evening.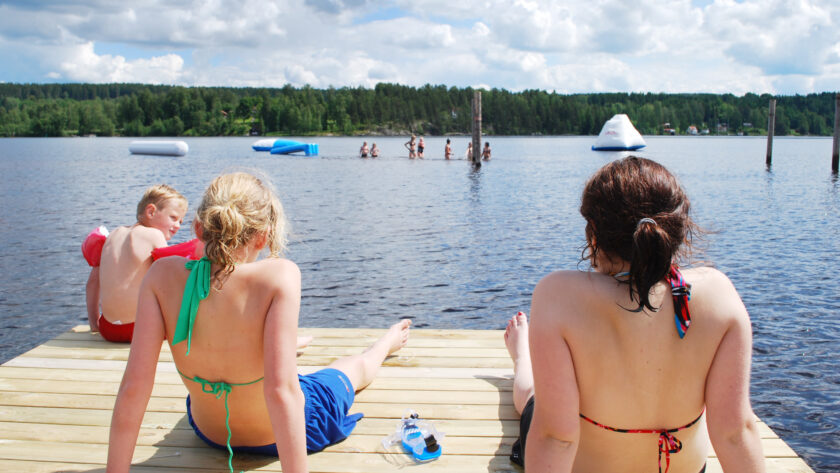 Swimming spot at Sunne First camp
The site is called Kolsnäs and is the most popular swimming spot in the vicinity of Sunne. This is of course because Sunne First camp and Sommarland are also located here.
If you want to swim in the pool or try one of the Sommarland water playgrounds, this is the place for you. It is well-organised here with jetties, changing rooms and toilets next to the beach. Out on Kolsnäsudden, there are barbecue areas and more jetties. If you don't have your own picnic basket, there is food to buy at Bowlinghallen right next to Sunne Sommarland.
Swimming spot in Bjälverud
A couple of miles north of Sunne in Bjälverud is Råby, Bjälverud's swimming spot. A swimming spot in Norra Fryken. If you come here, you'll be on Fryken's west shore. There is a swimming beach facing south with room for everyone. The jetties will be open from May and both a changing cabin and an outhouse are available for your convenience. During the summer, there is a swimming school here. Many children in the area have taken their first swim at this beach. 
Swimming spot in Fryken by Lysvik.
On the eastern side of Norra Fryken in Lysvik is one of Sunne's finest locations. Many people go to Lysviks Camping to sunbathe. It offers a sandy beach with sun hours from early to late and boasts magnificent views of Fryken. The lake quickly becomes deep, so it's good to keep this in mind when swimming with young children. You can also take a break from swimming and go to buy an ice cream at Mormors Glasscafé or eat at Frykens Pärla. The sandy beach is quite long and there is a promenade at the edge of the beach that you can get to with a wheelchair or a pram. The campsite's guests are right next door and on a hot day in July, you have to prepare for there to be a lot of beachgoers at the place.
Swimming spots around Gräsmark
There are many lakes around Gräsmark. Lillsjön is located by the village of Uddheden and the swimming spot is opposite the church in Gräsmark. The lake has a sandy bottom and the sandy beach measures about 100 metres. There are jetties and it's not far to get to the store if you get the urge for something refreshing. Around the corner is Sunne's Riviera, Trötvik swimming area in Rottnen. The sandy beach here is a full 700 metres, making it easy to find your own spot. Out in the water, you'll find that it's shallow here, in other words perfect for families with children who like to swim. The canoe route through Rottnen round the cape by Trötvik. If you see any canoeists, you can wave to them.
North of Gräsmark, Hedås, Brandsbol, on the way to Torsby there is a swimming spot in Grässjön. The swimming spot is located by the campsite, beautifully surrounded by large pine trees. The environment here is characterised by pine with sandy soil. The beach offers a 200-metre-long sandy beach that is quite shallow. The 10 km-long hiking trail Grinnberget starts here. If you want to cool off with a dip after the hike, it's perfect here.
Swimming spot in Timbonäs in Lake Kymmen
Kymmen is located northwest of Gräsmark. The swimming spot is located in Timbonäs and is called Stranna. The beach has sand and there is a gravel bottom with some rocks.
Kymmen's water is regulated because there is a power plant here. During the winter, the water level may drop as much as 7 metres. If you cross the lake during that time, the view over the lake can look completely different compared to when you're there to swim during the summer.
Swimming spot at Hällsjön in Bäckalund
It's almost unbelievable how beautiful this swimming spot is in the middle of the forest. There are jetties, a changing cabin and an outhouse. The beach and the bottom are sandy. During the summer, there is a swimming school here. If you want to grill, there is a fireplace here. Bring your own firewood or charcoal if you want to be sure to be able to grill. 
Swimming spot Lersjön Södra Viken
The proximity to the Södra Viken high school means this is a swimming area where many students from the school come for a dip. The beach is about ten metres wide, there are jetties, changing cabins, barbecue areas and outhouses.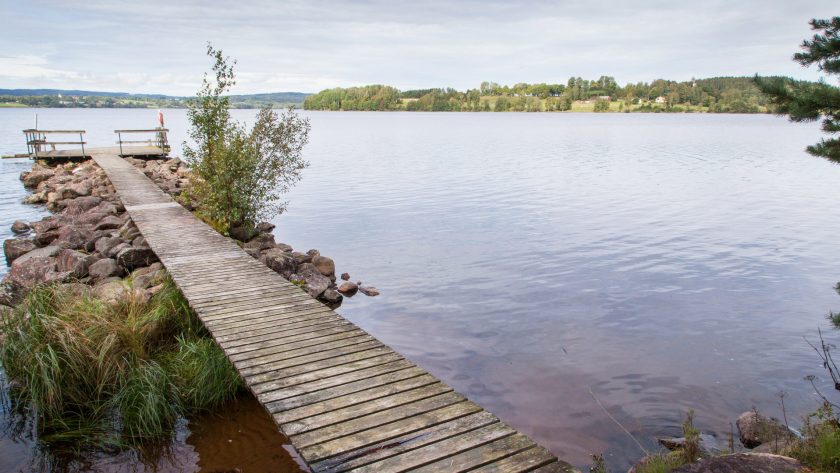 Swimming spots in Östra Ämtervik 
East of Östra Ämtervik is the lake named Skacksjön. To get here if you're coming from Sunnehållet, turn left right after the country store in Östra Ämtervik where it says Visterud on the sign. When you arrive in Skacksjö village, continue straight ahead and continue past the three-way intersection about 300 metres. You can park your vehicle at the garage. Then you can walk a few hundred metres to the swimming area. Jetties, a changing cabin and toilet are available here. When you step in from the rocks, you'll find that there's a sandy bottom. Feel free to stay until the evening and enjoy the beautiful sunset.
A little further south from Östra Ämtervik is Lake Visten. To find the swimming spot at Bonäs, drive past Östra Ämtervik and after a mile follow the sign to Nolbergsviken to the left. The swimming area is about 1.8 km into this road. The parking lot is by the road and from here it is about 400 metres that you can go down to the swimming area. To the south you look out over the lake and here you have the sandy bottom and rocks. 
Swimming spots in Rottneros Park and Öjervik 
Inside Rottneros Park there is a swimming area down by Fryken. This is good to know before visiting the park so you can include swimwear in your packing.
On the way to the swimming spot, you pass the statue of Selma Lagerlöf. Down by the beach is a building and out on the cape it's common for wedding couples to have the actual wedding ceremony.
Not far from Rottneros Park is the small community Öjervik. It's just over a mile south of Sunne along E45 to be exact. After crossing the railway, the parking lot is just north of the beach. The island you see from the swimming area is Malön. If you have a boat, there are also beaches to swim at on the island. On a beautiful day, you will surely see many boat owners go there. At Öjervik's swimming area, there are jetties, a changing cabin and an outdoor toilet. It's good to note that you are not allowed to camp here or bring a horse or bike.