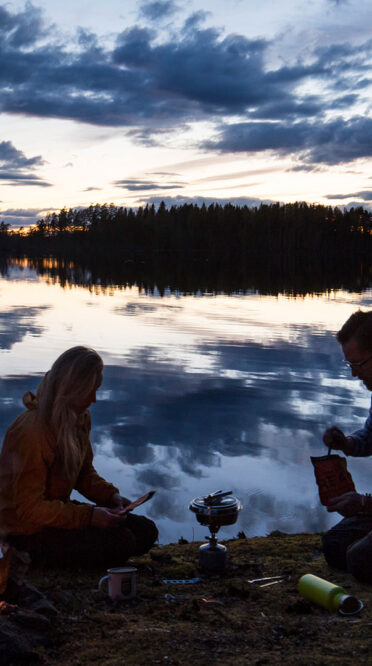 Sitting with your fishing rod on the edge of the beach and waiting for the lure to disappear beneath the surface can be so peaceful. But fishing can also be extremely exciting when a big pike suddenly bites. What fishing experience would you like to have?
Böjda Spön – store for fishing in Sunne
If you've never fished before, it can be good to start by visiting someone who knows the situation. On Långgatan in Sunne, you can find knowledge and gadgets at the Böjda Spön store. Fishing can be done in many different ways, with a classic fishing rod, with a throwing rod with a flashing lure or maybe by trolling from a boat. Some fish are best caught with fly fishing and here you will find artificial flies in all colours. If you are in Sunne to fish, you'll get the best advice here. 
Fishing permits for Sunne's different fishing waters
All lakes and watercourses are part of a "Fishing Conservation Area". To fish, you need to buy a fishing license for the lake you intend to fish in. Fryken is three different lakes and they are not the same fishing conversation areas. Find out which fishing license the lake is included in and buy your fishing license from one of the agents or online via fiskekort.se or ifiske.se. 
Fishing in Fryken
Fryken consists of three lakes and to fish in Fryken, you need to know which of the lakes you are in. Fryken's fishing conversation area includes large parts of Upper Fryken and Middle Fryken as well as Lake Björken. If you are fishing in the northernmost part of Upper Fryken, near Torsby, then it's the Upper Fryksdalen conservation area that applies. Farthest to the south towards Kil, it's the Lower Fryken fishing conservation area you buy a fishing license for. In Fryken, you mainly fish perch, pike and pikeperch, but sometimes also trout and rainbow trout.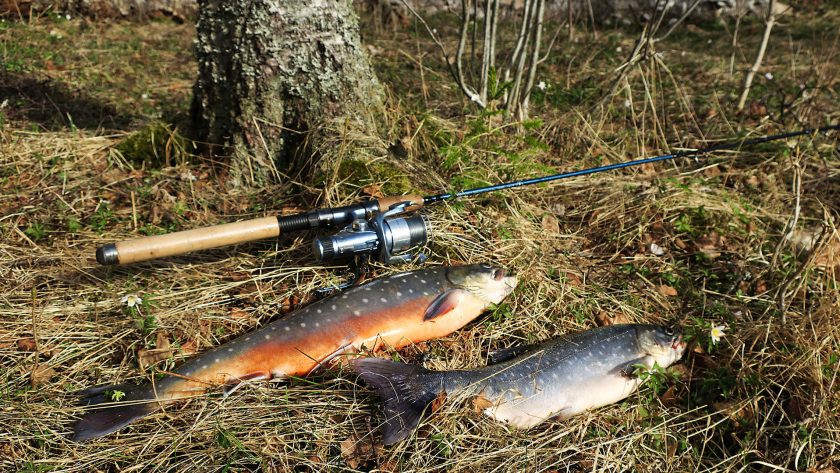 Fishing in Glaskogen
Perch, pike and trout are fish that bite when you fish in Glaskogen. The large water in Glaskogen is called Stora Gla, but the fishing conversation area also includes other smaller watercourses such as Glatjärnen, Flagan and Bjursjön. Check Fiskekartan.se to know where your fishing license is valid. Glaskogen is only an hour away from Sunne.
Perch fried in butter – Cook the fish in the best way 
Once the fish is caught, it has to be cooked. There are lots of recipes for wild-caught lake fish such as horseradish pike, perch fried in butter with chanterelles or pikeperch with bacon.
But first the fish has to be cleaned. It might not be the easiest, but you can get help with that. There are videos that describe how to clean or fillet a perch and how to debone a pike.  
Restaurants in Sunne that have local fish on the menu
Sitting at a table and being served a good local fish is certainly a luxury. In Sunne, you can visit Kulinarika at Aplungen or Ulvsby Herrgård, which works a lot with local products. Vänerlax and Vänerlöjrom are popular items on the menu. Locally grown vegetables and herbs are served. They have tips for the drink to match with it to elevate the fish to the best meal. 
Fishing story of the big pike
Is it a myth that anglers exaggerate their stories? The pike weighs a little more in the story than it did in reality and the fight to get the salmon up was a little more intense than it was in reality. But the story you're about to hear is true. To catch the spring pike, you often use a fyke net that is put in when the ice has disappeared. Once upon a time, 30 years ago, two siblings were going to check the fyke net. The road to the lake was about1 km and they chose to use a moped to get to the lake.
When the siblings took the skiff and rowed out to the fyke net, they discovered that there was a giant pike caught in it. With all the strength they had, the pike was brought up in the boat after an hour. But how would they get the beast home? Because all catches should be taken home. The siblings had no other choice but for the little sister to watch the big pike while the brother went and got the tractor. You can see that this pike was one of the biggest! The pike ended its days as the world's tastiest pike dish.