The Askerudsberget hiking trail starts only 6 kilometers north of Sunne. You can take your bike here on the newly built pedestrian and cycle track, which runs all the way from the centre of Sunne. Or take the car and park at Ingmår community centre. Along the trail you'll pass many croft remains and if you are observant, also places where there used to be dancefloors.
Good to Know:
Trail Length: 2-12 kilometres
Difficulty level: Moderate difficulty
Distance to Sunne: 6 kilometres
Starting point: Ingmår village hall >
Glimpses of Fryken
The hiking trail runs partly over rocks and through the sparse pine forest. It winds down through the spruce forest to Fryken's beach and up again. In some places there are ropes to help you get around and in other places you walk on ancient gravel roads. There are several possibilities to relax and enjoy the view. You walk through varying nature and occasionally have views of both Fryken and the growing landscape, where you can often discern the former agricultural landscape. Your hike follows the mountain of Askerud northwards and then returns again on the other side.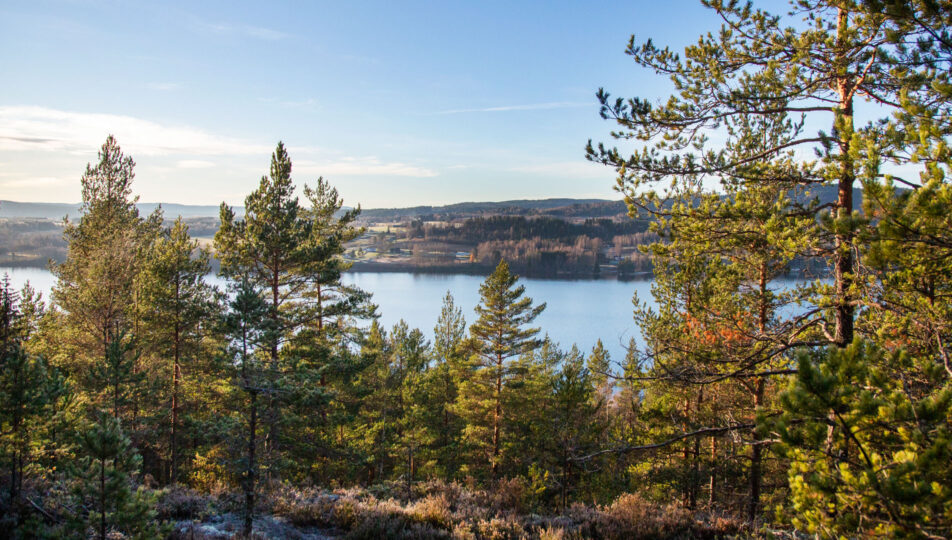 Many remnants from the past
Askerudsberget is one of the most interesting trails in Värmland for people interested in cultural history. There are remnants in the form of foundations and remains of former dancefloors that can hardly be discerned any longer. Impressive stone yards divide the landscape and there are plenty of antique monuments. No less than 36 different points of interest are marked on the map, and you can read about many of them on the information boards along the trail. People often live in the crofts that are still intact, so please show consideration and do not trespass on their land.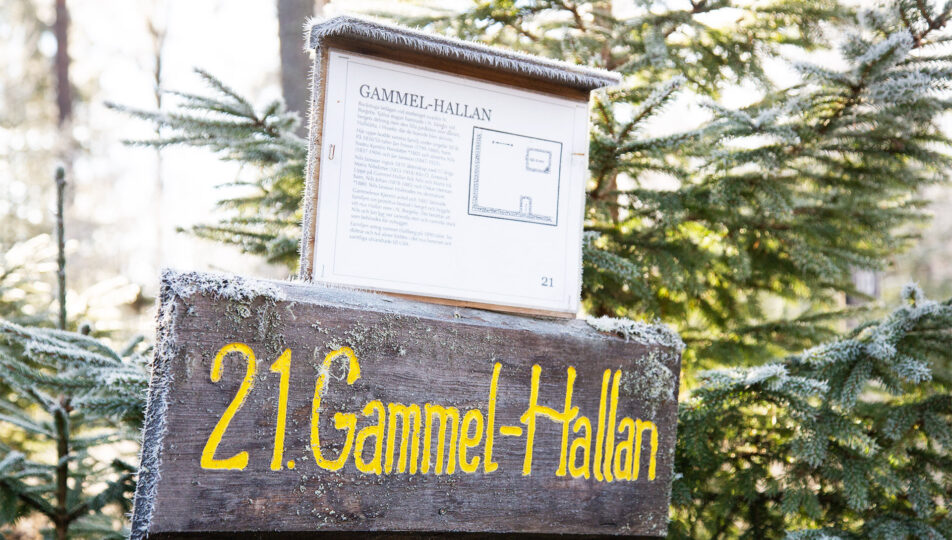 Map of the trails at Askerudsberget
Det finns stora möjligheter att välja hur långt du vill vandra på Askerudsberget. I en postlåda vid bygdegården finns gratis kartor. Om du vill gå den längre slingan på 12 kilometer så följer du de oThere are great possibilities to choose how far you want to hike on Askerudsberget. Free maps are available in a mailbox next to the community centre. If you want to walk the longer trail for 12 kilometers, follow the orange markings. If you prefer a shorter walk, follow the blue markings for the 2-kilometer "Tipspromenad". You can also go different lengths in between; look at the map and choose the one that suits you best!
Part of the pilgrimage route
The Askerudsberget hiking trail is one of many routes on Fryksdalsleden. The Fryksdalsleden trail is a former, trade and pilgrimage route where people are thought to have been walking for thousands of years. The Fryksdalsleden trail runs from Kil in the south to Torsby in the north and is a total of 110 kilometers.