Länsmansnäset is the perfect hiking trail for those wanting a shorter walk, perhaps accompanied by children. The trail is just 10 km away from Sunne and is two kilometers long. At the end of the isthmus there is a nice barbecue area wedged between stones and the cliffs. Here you will find wood, so if you like, you can light a fire.
Good to know:
Trail length: 2 kilometres
Difficulty level: Very easy
Distance to Sunne: 10 kilometres
Starting point: Södra Viken school >
Grazing cows
The trail starts at the Södra Viken School. The first part of the trail runs through pastures where cows spend their time while the grazing is good here. Walk quietly through the pasture and try to disturb the cows as little as possible. Don't be afraid if they approach, they're just curious and want to see who you are. Keep calm, then the cows will also be calm. To get over the fence there is a stile with a handrail. Follow the beach around the isthmus in Lake Lersjön. Here you walk with the sound of the waves in your ears and with water on both sides of the trail. On the way out, you pass several benches.
Favourable environment for woodpeckers
The south-west part of the isthmus is dominated by old coarse asp with a hint of birch, including dead and dying trees. Ring-barked trees form more dead wood, which in turn favours wood-living insects, many of which become food for woodpeckers. Most of the woodpecker species are represented on Länsmansnäset. Along the eastern seagoing side, there are old rough pines growing. The northern part is dominated by fir trees and here fallen trees are left lying to benefit the natural hosts who live in coarse coniferous wood. There is a rich bird and animal life on the isthmus.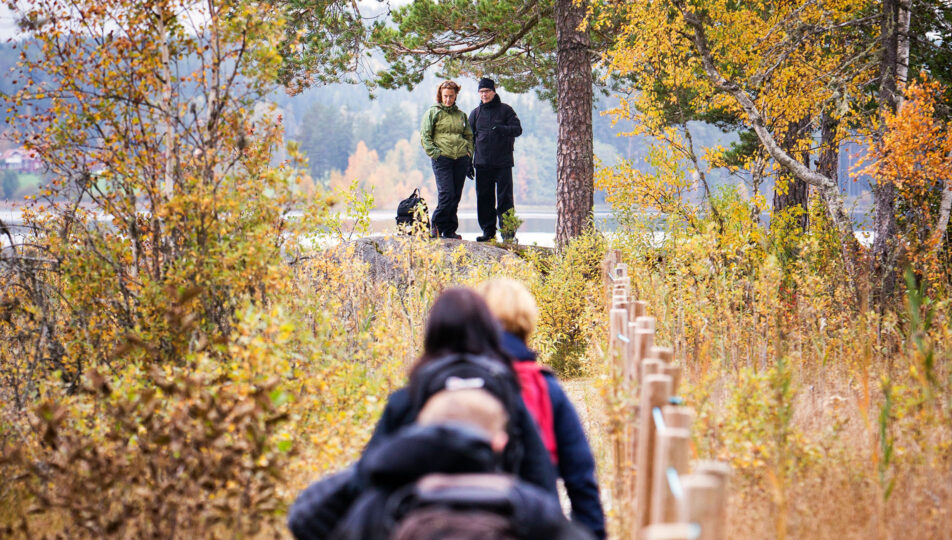 High natural values
In the inner part of the forest, overgrown ditches form small water mirrors and give the environment a magical character. These small fish-free waters often have high natural values. Water salamander and other amphibians thrive here. These are protected according to the species protection regulation.
The meadow
A meadow has been cut into the forest landscape, a remnant from the middle of the 19th century when the land was used for cultivation, grazing and meadows. In the forest edge of the meadow and south into the deciduous forest there are blue anemones and later in the year lily of the valley.
Show consideration for nature
At Länsmansnäset, dogs are to be kept on a lead all year round. You may only fish after obtaining a fishing permit. Show consideration for grazing animals and be careful to close gates after you and not to damage fences. The public right of access applies here, as in other natural areas in Sweden, and can be summarized as follows: "Don't disturb – don't destroy".