Styggbergsstigen är en vandringsled påThe Styggbergsstigen trail is a seven-kilometer hiking trail through the scenic Gräsmark area. You can start your hike either from Naturcamping Lagom or you can park at the nearby bathing area. Follow the gravel road, signs for the hiking trail and orange markings. Most of the hiking trail takes in the highest positions in the area, with very steep terrain. The difficulty level varies, so it is recommended that you study the level curves on the map before you start your hike. Choose waterproof hiking boots or rubber boots that will keep your feet dry!
Good to Know:
Nature shaped by a glacier
The shape of the rock peaks in the area is typical of the hyperite rocks (a type of limestone rock) that has been affected by the movements of the most recent ice sheets. The nutrient-rich moraine has then been collected in the precipices below these peaks. The rock material here can be compared to the nearby Gettjärnsklätten nature reserve. The flora is very varied and the forest grows tall due to the calcareous earth.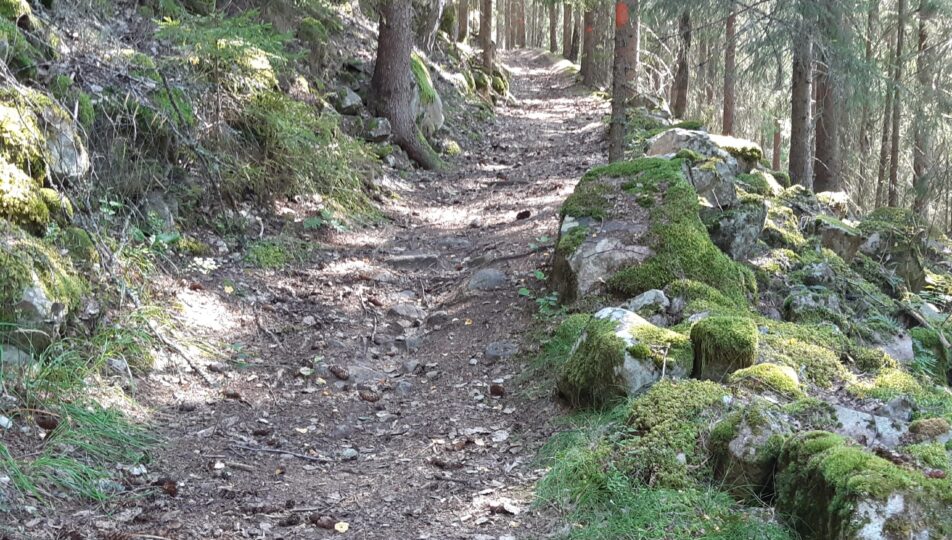 Steep detour with striking views
You follow an old horsecart trail that goes up along a river basin with exciting natural views. If you wish, you can make a detour up to the top of Styggberget, where there is a lookout point with a view of the church village. The path up there is steep. The trail continues up to the southern shore of Västra Råtjärn, which you follow for a while. Later on you can choose to either turn left and continue along the Fiskestigen or follow the beach to a picnic spot further ahead. There is also a barbecue area and the possibility to follow a path up to a lookout point 270 meters above sea level. The detour is not long and the view is magnificent. Take the opportunity to take a break and eat your packed lunch here.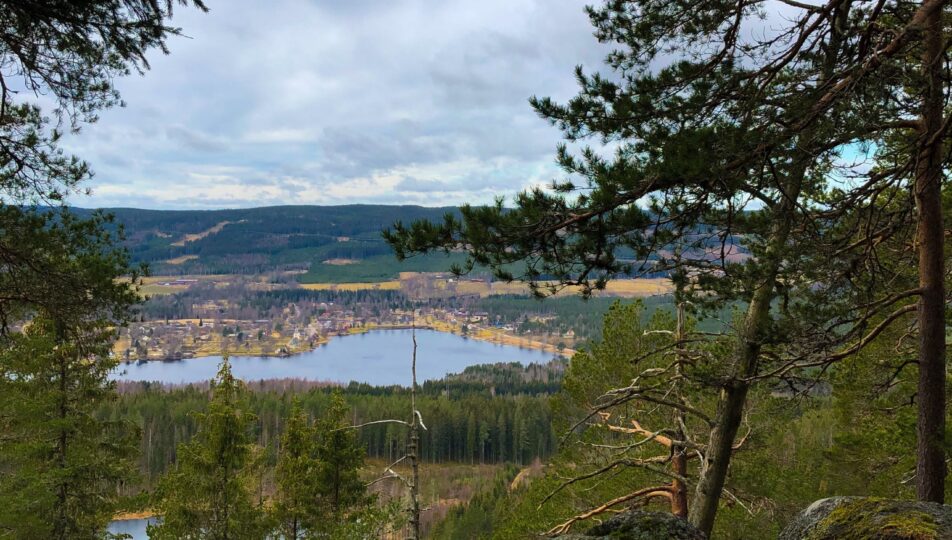 Walk by the sparkling stream
From the lookout point, you return to Fiskestigen, which goes west from Västra Råtjärn. You follow the stream that cascades down the steep precipice between the stone blocks beside the trail as you begin your downward hike. The stream flows from here down to Höjden. From Höjden, you can then follow the gravel road down to Naturcamping Lagom and back to the bathing area. When you have made your way up all the slopes of the Råtjärn, there is a gravel road that borders the right side of the path. If you want to avoid the moss, you can take the gravel road around the other side of the pond. Your hike will then be barely a kilometer longer, but will be guaranteed dry.