Cross-country skiing in and around Sunne
For many people, cross-country skiing is the most delightful thing winter can offer. Some sit on the couch and watch Vinterstudion, while others want to get out on the trail for real. There are several places to choose from for cross-country skiing in Sunne. We give you some tips here.
Rokkmakkstugan by Ängen in Gräsmark, 10 km cross-country trail
The nature experience by Rokkmakk is first class. Rokkmakkstugan is beautifully situated on the slope down towards Ängsjön. Many people come here when the snow has settled, and it usually does so early in the season. The toboggan run is frequently used, as are the barbecue areas. If you're lucky, the cottage will also be open so you can buy waffles and coffee. The cross-country ski trail is a loop of 10 km, but there are also shorter loops. These do not always have trails though. This is classic skiing here. You make your way through the forest, over bogs and pass some ponds on your way. The track runs at almost the same height at all times, so you avoid steep slopes. 
There are cross-country trails at Ski Sunne 
Ski Sunne is primarily a facility for downhill skiing, but there are options for those who want to go cross-country skiing. At the top of the mountain at Ski Sunne, there is a cross-country trail of 12 km. You get there by car or by ski lift. The lift also works to get down, going downhill on narrow cross-country skis can be dangerous. On the slopes, snowboards or slalom skis are more suitable. Artificial snow is laid on Ski Sunne's slopes, but cross-country ski trails are only drawn on natural snow. This means that there must have been enough precipitation in the form of snow for the trails to be passable. Before you go, you can contact Ski Sunne and find out the status of the trails.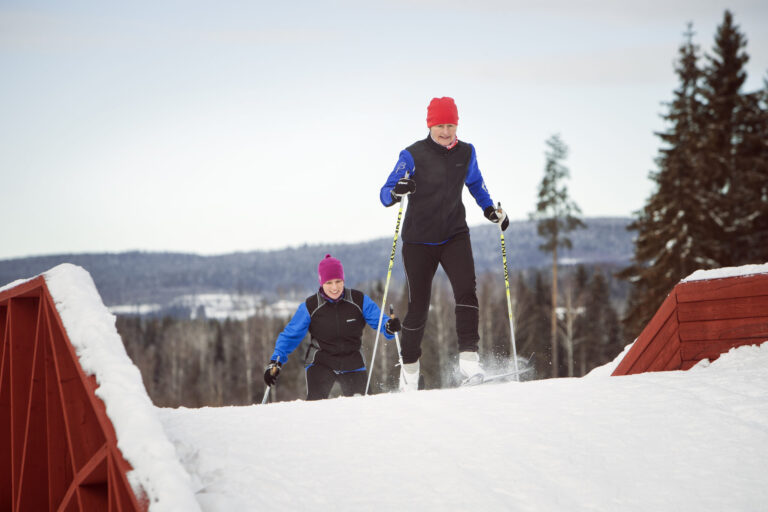 Ski trails at Sundsberget and Selma Spa 
At the Sundsberg open-air area behind Selma Spa, there are ski trails of varying length and difficulty. Early in the season, artificial snow is laid here, which means you can ski a 1.3 km loop here from November to April if the cold lasts. There is no trail fee for Sundsberget. If you choose the yellow marking, the loop is 5 km and with quite difficult slopes, so it's very hilly. The loops marked with red (2.5 km) or blue (1.5 km) are described as slightly hilly. If you want to skate, you want the red loop. Evening skiing works well here, most of the loops have lighting. If you happen to have a weekend at Selma Spa in Värmland during the winter and like cross-country skiing, take your skis with you.
Cross-country skiing in Västra Ämtervik and on Fryksdalshöjden
In Västra Ämtervik, you can choose to ski in two places. At Ekebyvallen, there is a very hilly loop of just over 2 km with several steep slopes. You have to keep track of which direction you are going here. There are signs to show you the right way. On the way to Arvika, there is a loop up on Fryksdalshöjden. The loop here is 5 km and it is easy to get over the bogs. Perfect for those who want to practice pole vaulting. Follow signs to the trail at the top of the hill. Keep an eye on whether there is a trail fee, in which case it will be stated on the signs.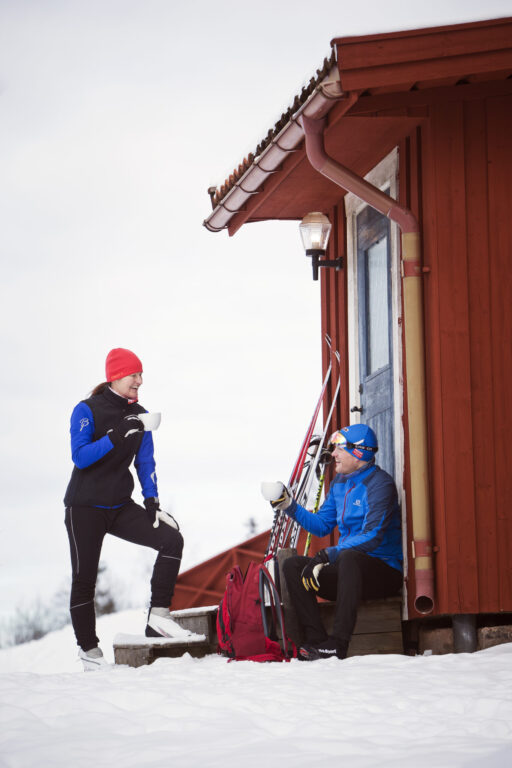 Cross-country skiing in Gräsmark
Trails for classic cross-country skiing are available at both Uddheden and Hedås. Both runs are 2.5 km long and both have lighting if you want to go for an evening session. The trail at Uddheden is adapted for classic skiing, while the one at Hedås also has room for those who want to take skates. How do you find these trails? The trail in Hedås starts at Grässjön's campsite just north of Gräsmark. You'll find Uddheden's trail if you drive on Skolvägen and then Tallåsvägen. 
Ski all year round – Torsby Skitunnel (Torsby Ski Tunnel) 
Alternate sun, swimming and beaches with skiing. This is quite possible when you are in Sunne. The trip to Torsby Ski Tunnel only takes half an hour from Sunne. A tunnel with all the possibilities for those who want to ski even in summer. You can rent skis to suit you here, don't worry, it's the same temperature and ski surface all the time. The width of the tunnel is 8 metres and you go along tracks in classic style or skate. The loop is 1.3 km long and there are slopes, so the track is described as hilly. This is a ski arena for beginners, exercisers and professionals alike. Even the most talented skiers come here, several national teams hold their training here. The upcoming stars from the high school in Torsby train here too.