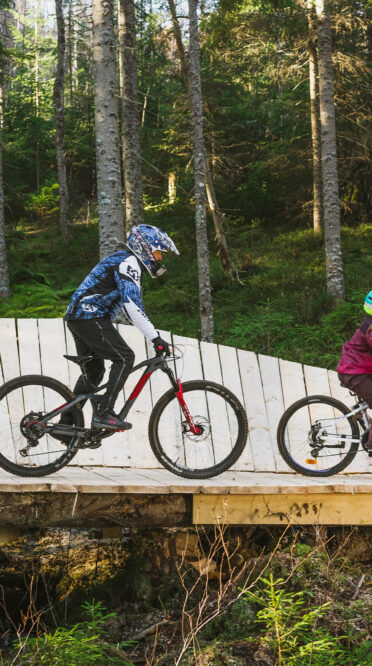 Sunne Bike Park is dedicated to lift assisted biking, or "downhill". This means that you bring your bicycle along on a lift to up a mountain, and then ride it downhill. If you have visited a bike park before, you will recognise the fun mix of machine dug flow tracks with jumps and berms, and hand dug singletracks – all of them at different levels of difficulty.
Great family activity
Biking downhill might sound like a dangerous sport where you head straight down the mountain. But that's not quite the case – much like downhill skiing, it's about technique and having fun while you make your way down the mountain. The tracks are built so that you can moderate your speed after your experience, and also have time to enjoy nature in a fun and exciting way. With the right helmet, pads, and a bike made for going downhill, anyone can learn! You will develop skills and techniques as you get better, so that you can comfortably take on the more difficult tracks – or maybe become the best downhill biker in the country! Just like skiing, it's a perfect activity for the whole family.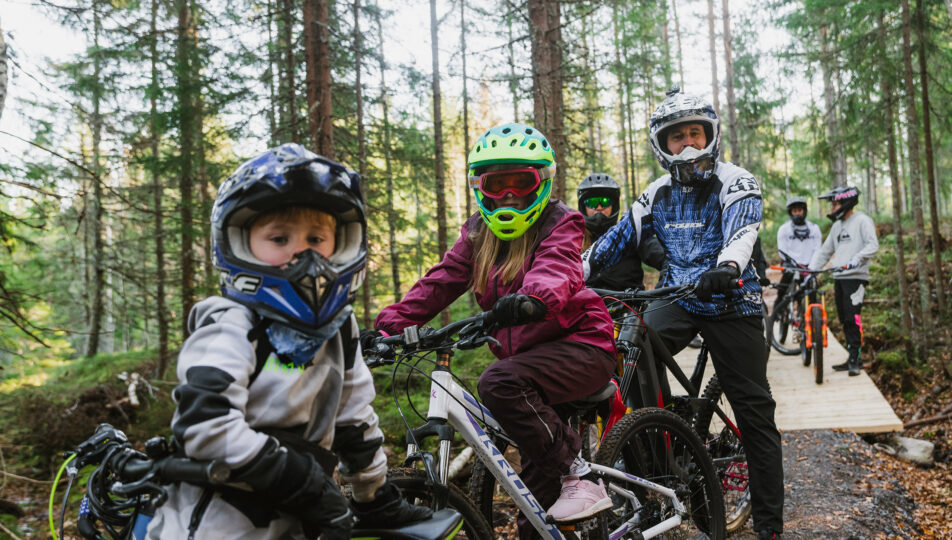 Different tracks with different difficulties
Sunne Bike Park offers you tracks with different levels of difficulty and properties. Begin easy and increase the challenges at your own pace. The tracks are graded the same way as pistes in skiing, where green tracks are the easiest ones and black marks the most difficult ones. If you don't want to take the lift up, you can still have fun in the kids'/beginners' area or at the pump track. Read more about the tracks and see a map at Sunne Ski & Bike's homepage.
Skills Area, a place to practice
The Skills Area is located a little way up the mountain, close to Track 1. Come here to practice your jump and drop techniques, how to take on bends and bumpy grounds. The area is under development and the plan is to create 4-5 parallell trails of about 100 metres that you can peddle up or walk back to ride again, to give you a chance to practice the same thing over and over until you feel secure. Two kid tracks will be available, and you will be able to walk up to them to avoid using the lift. The green track will just require following the turns, and a blue track with easier velodrome bends and smaller jumps. Once you have outgrown the kids' area, you are probably ready to take on one of the bigger tracks!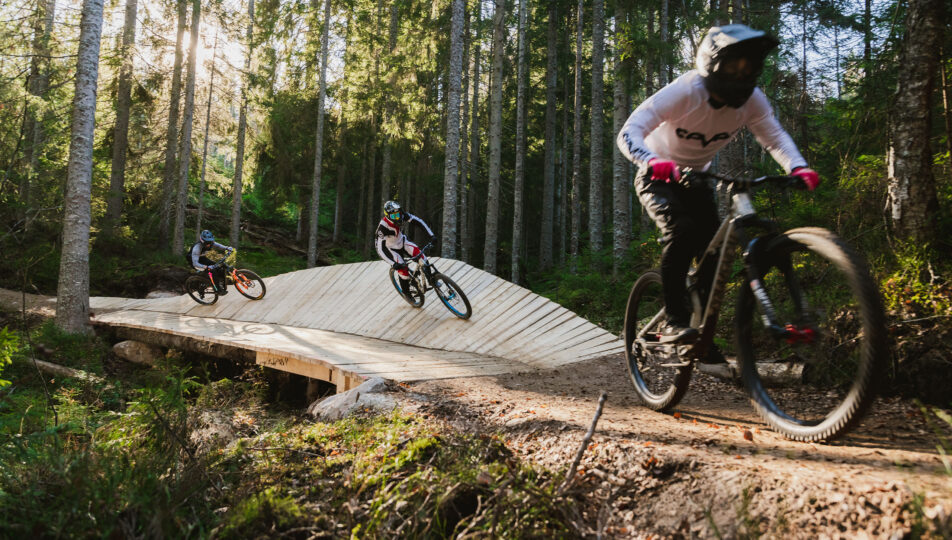 Bike Rentals at Sunne Bike Park
You can rent everything you need for a fun biking experience at Sunne Ski & Bike. There are downhill and enduro bikes in different sizes and of different brands. The downhill bikes are robust with shock absorbers, which makes them a bit heavier. If you prefer a lighter bike, go for an enduro.
To ensure that you get the bike of your choice, do make sure to pre book it in advance. Drop in rentals are based on availability and can't be guaranteed. When you rent a bike, all of the protection that you will need are included: full face helmet, knee pads, torso protection, gloves, and sweater. Use heavier shoes with flat soles, and outdoor clothing to suit the weather.