As you walk this trail, you can enjoy looking out over water almost all the way. If the surface of the lake is still, you can also see the beautiful church in Gräsmark that mirrors itself in the water. This trail offers easy hiking along the lake.
Good to know:
Trail length: 4,5 kilometres
Difficulty level: Easy
Distance to Sunne: 21 kilometres
Starting point: Gräsmark church >
Lillsjön or Udden
This trail extends around Lake Udden (generally known as Lillsjön in these parts). The main part of the route is along gravel roads, but also a bit on the asphalt through the centre of Uddheden. On the west side, the gravel road crests the hill and you get a nice view of the lake and church village. Here you will now follow a forest path a few hundred meters before you return to the gravel road. The trail gives you great views of the lake and the church.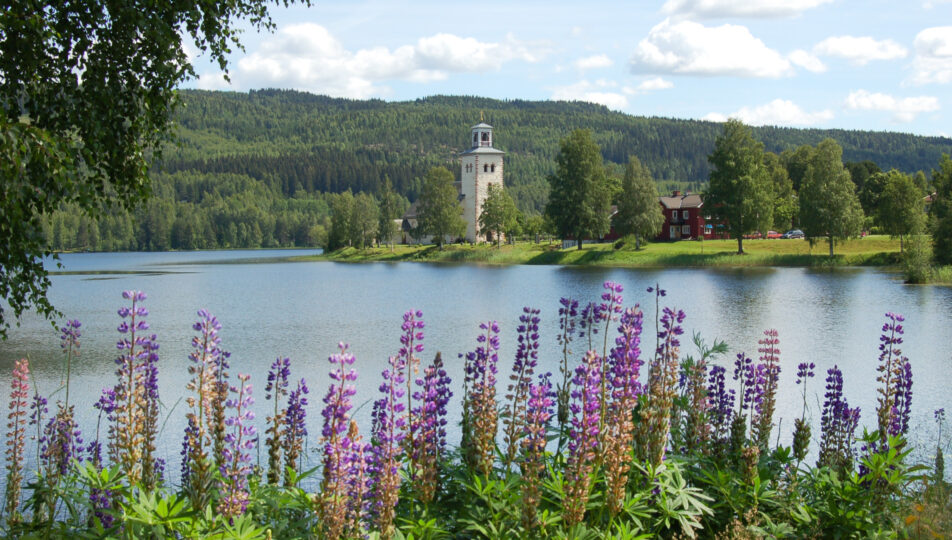 Beautiful Gräsmark in Rottnadalen
Set in Rottnadalen valley, Gräsmark is an idyllic location with fantastic natural beauty. The Rottna river flows out into the lake Rottnen just beyond this trail. There are several nature reserves in the area around Gräsmark and many of Sunne's most popular popular hiking trails. In the small community of Gräsmark, which is also mentioned on the map as Uddheden, there is a shop and restaurant. In the summer you can swim in several places, including the kilometer-long sandy beach at Trötvik, which is located in the north end of Rottnen or at the bathing site at the northern end of Lake Lillsjön.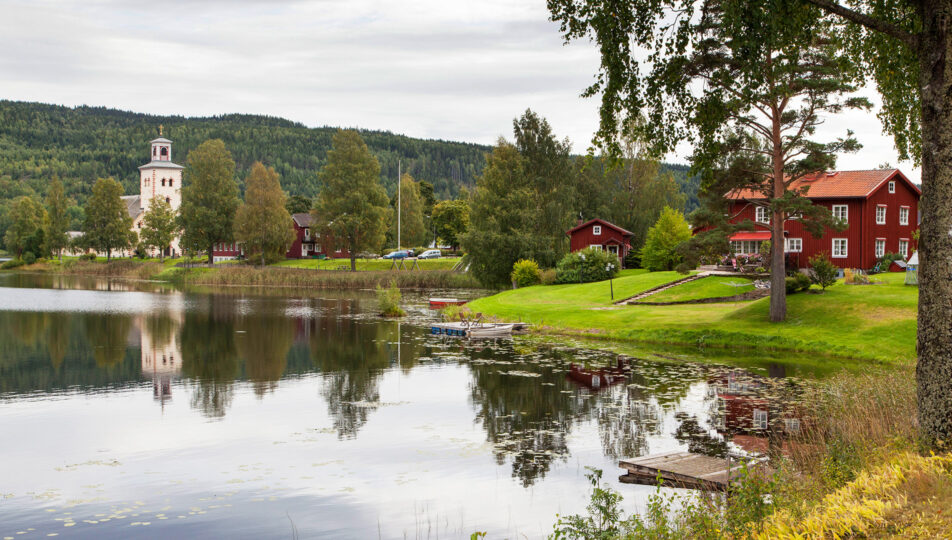 Gräsmark's church with ceiling paintings
The hiking trail takes you past the church in Gräsmark, which features stunning ceiling paintings and is one of the few churches that have paintings of hell. Rumour has it that the painter populated purgatory with the people he did not like so much. The exterior of the church is also exceptionally beautiful, but it is probably the location that is its greatest asset. The park-like nature of the cemetery is lifted by its location on the shore of the lake.
Food at Kalasmakeriet
Just above the beach on the north side of the lake there is a restaurant. If you are hungry, you can eat at Kalasmakeriet. Here they serve traditional Swedish buffet, smörgåsbord, or traditional home cooking dishes. The best thing is to look at their website or social media as their opening times according to the season.
Spend the night in Gräsmark
Just above the beach at Lake Lillsjön, up among the pine trees you can find Naturcamping Lagom. Here you can stay overnight if you want to stay in Gräsmark for several days. The campsite rents canoes and is a good starting point if you want to hike more trails around Gräsmark.